VIRTUAL UNIVERSITY MIDTERM SOLVED QUIZ ALL SUBJECTS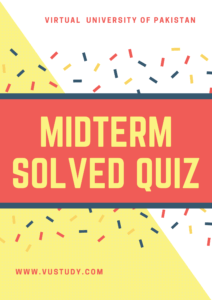 Here You Can Download Virtual University Midterm Quiz for all subjects & Grand Quizzes, everyone needs better preparation for midterm exams. We are working to collect past quizzes of every subject and upload them here. This is a great opportunity for you to get prepare for the exam through past quizzes and get good marks in your midterm exam. The quizzes help the student to learn with practice, as they allow the students to think back to the information previously learned and remember them while quizzing. With the evolving technology, the traditional way of teaching students is really gone, and teachers find new methods of teaching and helping students ace examinations having a strong academic foundation. Most educators maybe a parent or a teacher wants their student to score better marks in examinations. By practicing quizzes, students can do critical thinking, and get into a habit of innovative learning. These quizzes integrate the game mechanics into the learning process, they help students understand the weaker areas with instant feedback. Here You Can download Virtual University Midterm Solved Quiz for Preparation of the Midterm Exam.
DOWNLOAD MIDTERM SOLVED QUIZZES & GRAND QUIZZES FOR ALL SUBJECTS 
You can easily download from these links…………..
Here you can Download Virtual University of Pakistan All Subjects Handouts, Quiz's  Solved midterm past papers, Moaaz, Arslan, Waqar Siddhu past papers and Competitive Exams solved Mcqs All subjects. These are very helpful for the preparation of Midterm Exams.