MOAAZ ALL SUBJECTS FINAL TERM PAPERS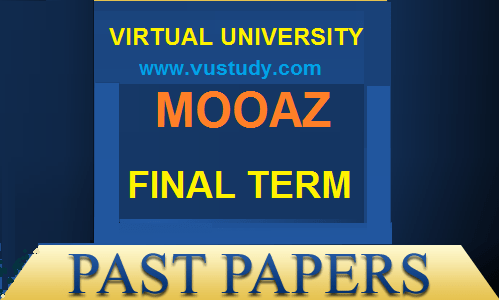 Moaaz Siddique is a Brilliant Student Of the Virtual University Of Pakistan and completed a Master's in Computer Science and belongs to Faisalabad. Moaaz Not only Solved Objectives Papers also solved The subjective Past Papers with Reference by handouts page. Are you looking for Moaaz All Subjects Final Term Papers or Waqar Siddhu? Hey, I'm also a Student at the virtual university and completed a Master's in Computer Science with Good marks. I strongly recommend preparation from past papers especially Mooaz and Waqar's past papers are a good source to complete your degree with the highest Grade.
Vu Study is a Helping Platform for the Students of the Virtual University Of Pakistan. Here you can find Handouts of All subjects. VU Midterm Past Papers, VU Final term Past Papers, VU Midterm Exam Papers, VU Finalterrm Exam Papers, Assignment Solutions, Midterm Quizs with Solutions, Final term Quizs with Solution, Solved Moaaz Past Papers, Solved Waqar Siddhu Past Papers. How you can Download the Past Papers? There is a much simpler and better way, I will provide you with Moaaz Final term Papers with a simple click on a link.
DOWNLOAD MOAAZ ALL SUBJECTIVE FINAL TERM PAPERS WITH REFERENCE
Here You Can download :-