VIRTUAL UNIVERSITY SOLVED PAPERS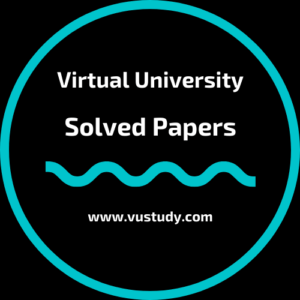 In many countries, there are institutions or universities that offer online courses and degree programs. These universities are often referred to as virtual universities because they deliver education over the Internet. Students can attend classes, submit assignments, and interact with instructors and fellow students online. The concept of a virtual university is closely tied to the idea of distance education and e-learning. The Virtual University of Pakistan is a prominent example. It's a public university in Pakistan that offers a wide range of undergraduate and postgraduate programs through online learning. It's designed to provide education to students who cannot attend traditional brick-and-mortar universities for various reasons. Vustudy is the Pakistani Top Mcqs website for Virtual University Students, where you can find a lot of Mcqs of all Subjects. The Virtual University of Pakistan is a public university located in the urban area Head Office M.A Jinnah Campus, Defense Road, and Off Raiwind Road Lahore Punjab, Pakistan. University Encourages Modern Information and Communication Technologies. Using this site, Students can get many benefits that can help with their studies. This site follows the unique ideas that were first introduced to students of a virtual university. The purpose of this site is to help students who use information technology.
Here you can download Virtual University Solved Papers like Midterm and final Term past papers with reference by Moaaz Siddique, Waqar Siddhu, Arslan, and other students ON YOUR DESIRED CODE FOR THE STUDY MATERIAL OF THESE SUBJECTS…

DOWNLOAD VIRTUAL UNIVERSITY PAPERS ALL SUBJECTS
Here you can Download Virtual University of Pakistan All Subjects Handouts, Midterm Solved Quiz's  Solved Midterm, Finalterm Solved Quiz, Midterm Grand Quiz, Finalterm Solved Quiz,  Solved Midterm past papers, and Final term Past papers with Reference. These are very helpful for the preparation for midterm and Final term Exams. You can also Download Digiskill study materials, FPSC, and other Competitive exams solved papers for Preparation of Jobs. You can easily download it from these links…………..
Here You Can Also Download Digiskill study materials and a lot of Competitive Exams Mcqs in PDF for the Preparation of Your CSS, FPSC, PPSC, NTS, and other Govt job exams in Pakistan.