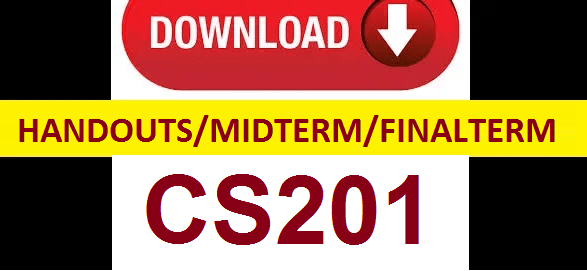 CS201 Midterm and Finalterm Solved papers
Download virtual university huge range of  CS201 Midterm, CS201 Finalterm Papers, and CS201 handouts. This is a great opportunity for you to get prepare for the exam through past papers and get good marks in your midterm exams. Here you can download mega files related CS201 Midterm and CS201 Finalterm papers with reference by Moaaz, Waqar Siddhu, and other virtual university Students.
Here you can download cs201 Finalterm papers & cs201 midterm papers with reference by students.

   CS201 Midterm Solved MCQ's with Reference by Rana Khalid
   CS201 Midterm Solved MCQ's with Reference by Rana Khalid
    CS201 Midterm Solved MCQ's with Reference by Rana Khalid
    CS201 Midterm Solved MCQ's with Reference by Rana Khalid
   CS201 Midterm Solved MCQ's with Reference by Rana Khalid
    CS201 Midterm Solved papers with Reference by Rana Khalid
              CS201 Midterm Solved Subjective with Reference by Ishfaq
CS201 Midterm Solved MCQ's with Reference by eagle_eye
 CS201 Midterm Solved Subjective with Reference by Aqib
        CS201 Midterm Solved MCQ's with Reference by Zeshan 
        CS201 Midterm Solved MCQ's with Reference by Zeshan 
       CS201 Midterm Solved MCQ's with Reference by Zeshan 
  CS201 Midterm Solved MCQ's with Reference by Aniqa
   CS201 Midterm Solved MCQ's with Reference Sadia Ali
  CS201 Midterm Solved Subjective with Reference
  CS201 Midterm Solved Subjective with Reference
  CS201 Midterm Solved MCQ's with Reference
 CS201 Midterm Solved MCQ's with Reference
CS201 Midterm Solved MCQ's with Reference
CS201 Midterm Solved MCQ's with Reference
CS201 Midterm Solved MCQ's with Reference
CS201 Midterm Solved MCQ's with Reference
CS201 Midterm Solved MCQ's with Reference

                CS201 FinalTerm Solved Objective & Subjective with Reference 1
             CS201 FinalTerm Solved Objective & Subjective with Reference 2
           CS201 FinalTerm Solved Objective & Subjective with Reference 3
            CS201 FinalTerm Solved Objective & Subjective with Reference 4
               CS201 Final term Solved Objective & Subjective With Reference 5
         CS201 Final term Solved Objective & Subjective With Reference 6
             CS201 Final term Solved Objective & Subjective  with Reference 7
          CS201 Final term Chapterwise Solved Subjective with Reference
            CS201 Final term Solved MCQ's Fall 2009 Reference By Students
          CS201 Final term Solved MCQ's with Reference By VU Students
        CS201 Final term Solved Mega File with Reference by Students
  CS201 Final term Solved Subjective 2010 Reference by Students
Here you can also Download…
Midterm All subjects past papers with reference by Moaaz
  Final term All Subjects Past papers with Reference by Moaaz
Midterm All Subjects past papers with reference by Waqar Siddhu
    Final term All Subjects Past papers with Reference by Waqar Siddhu
Midterm All Subjects Old Exam Papers share by Students
Midterm All Subjects Old Exam Papers share by Students
Midterm All Subjects Solved Quiz's with Reference