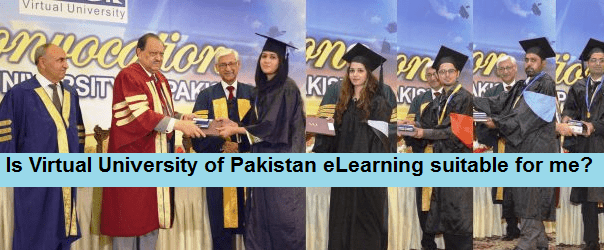 Is Virtual University of Pakistan e Learning suitable for me?
Is Virtual University of Pakistan e learning suitable for me?
Yes the Virtual University of Pakistan provides the best online education & courses for Pakistani /overseas students. Taking classes online is a popular way for working professionals to have the chance to earn a degree at their own pace. People who take online classes usually are looking for career advancement, career changes, or just want to finish a degree program they started at another college. There are hundreds of online programs and online schools to choose from, making it easier than ever before for prospective students to find the right one.
Advantages of Online Education in Pakistan
There are many reasons why you might consider enrolling in an online university course. The biggest advantage of taking an online college course is by far the convenience. You can take a university course online from anywhere connected to the Internet. Today, many wireless laptops allow you to connect to the Internet almost anywhere, making it easier to access a college course online. Never sit in the classroom or stay at home. You can access your college course anywhere you want.
The most valuable advantage of online education in Pakistan and the world are many people cannot find the right time to complete a university degree with their other obligations. Taking a college course online can be the answer to this problem. You don't have the same fixed schedule to attend classes when you take a college course online. You get to study at your own pace and at a time that suits you. It doesn't matter if you want to do all of your college work in the evenings or at weekends, with a college course online you can do exactly what you.
online education in Pakistan provided by Virtual University
Before admission in the virtual university, some important point keeps in mind if you take good Grade in your desire degree.
As a learner: I know distance learning and feel absolutely comfortable with online learning method of education
If I have to study at the Virtual University Campus: I have sufficient time required for classes at the campus and also at home or workplace.
While working on the computer I am: Very comfortable and can download and run applications, browse the web, install software and manage files, etc. without any help.
As a learner of new skills: Always accept the challenge and enjoy working with new things.
I am a person who: Finishes tasks/assignments according to the schedule.
Comparing online courses with face to face teaching in the classroom in believe that: Online courses should be easier because these can be repeated and video lectures can be listened to again and again for better understanding.
As a learner I am: Fully independent and highly motivated.
My access to the internet is? Regular and reliable.
My computer is able to: Download and view online audio, videos, and presentations.
As far as online communication is concerned: I am very comfortable with online modes of communication including email, chats and discussion boards, and social media.
How can I get admission in a virtual university?
The Virtual University of Pakistan offers admission twice in an academic year namely spring in the month of January/February and fall in the month of August/September each year.
How TO Apply In Virtual University
The virtual university of Pakistan provides a complete guideline with a video link it will help you easy access to admission to a virtual university…
Fee Structure of Virtual University
The admission fee includes a degree verification fee from the previous institution.

Entry Test (where applicable) will be charged @ Rs. 1,000/- and will be non-refundable.

Tuition fee @ Rs. 1,150/- per credit hour will be charged from MS students enrolled in the deficient course(s).

Lab fee for practical(s) will be charged (where applicable) at the following rates:

Deficiency Semester & Zero Semester @ Rs. 2,000/- per credit hour

BS @ Rs. 2,000/- per credit hour

Masters @ Rs. 2,000/- per credit hour

MS @ Rs. 5,000/- per credit hour

The Thesis fee will be charged at following rates (in addition to per credit hour tuition fee):

MS @ Rs. 15,000/-

Ph.D @ Rs. 25,000/-

Research fee will be charged at the following rates:

MS in Bioinformatics, Biotechnology, Genetics, Zoology, and Molecular Biology @ Rs. 15,000/-

Ph.D @ Rs. 50,000/-
Convocation fee @ Rs. 2,000/- will be charged at the time pass-out, the payment is mandatory to get transcript, degree and other certificates from the University.

Endowment fund contribution will be charged@ Rs. 1,000.

Fee collection charges @Rs. 100/- per semester.

50% discount on Enrolment Fee per Semester and Tuition Fee per credit hour will remain valid for all continuing students of the B.Ed (1-Year) program. 
Visit the important link about Fee Structure of Pakistani /Overseas Students
Virtual University provides online education in Pakistan with the highest quality education and research opportunities to all aspiring students irrespective of their age, gender, religion, and geographical location by using modern Information and communications technology (ICT) with content developed by top experts of their respective fields.