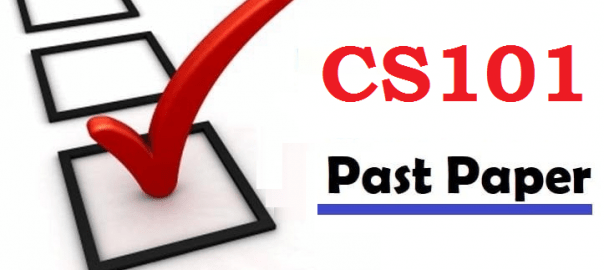 CS101-Introduction to Computing Solved Past Papers
CS101-Introduction to Computing Solved Past Papers
CS101 Introduction to Computing the object of this course. To build an appreciation for the fundamental concepts in computing. To achieve a beginner's proficiency in Web page development. To become familiar with popular PC productivity software. All students of Virtual University who are worried about their upcoming exam can get a collection of CS101 Solved Past Papers of midterm and Finalterm Exam and much more stuff related to this subject. we are providing the Latest virtual university midterm solved past papers by Moaaz, Waqar Siddhu, and also reference with other virtual university students.
Advantages of Distance Learning 
Distance learning is the best option for all students who are facing a busy schedule issue and  I believe that Distance Education is a useful tool and resource when time and location cannot be worked out between teacher and student. It allows for quick and thorough communication, and because of the advancements and features to programs, it provides a fresh option to teaching and learning.
One of the biggest distance learning benefits is the issue of flexibility and time. Because students are not confined to a classroom for a certain number of hours on a given day, they can approach their coursework with flexibility and complete lessons when it suits their schedule.
Financial benefits of distance learning
The financial benefits of distance learning exist as well. Without the need to leave your home to spend a semester or a year in a distant city, you can substantially save on transportation, housing, and food costs. It goes without saying that you can keep your full or part-time job, too, when you matriculate to a distance learning institution.
There are also social benefits to distance learning. Without having to leave your community, you can maintain your personal, cultural, and social lifestyle. 
So we can say, distance education is perfectly effective and one of the acceptable learning systems for all people. Distance education is an opportunity for professional students and it is internationally recognized, relatively low cost, practical, effective, and most suitable for professional students to study new skills and learn new techniques and tools.
Importance of past papers in distance learning 
In distance education, past papers are also needed for every student.  A past paper is an examination paper from previous years, usually used either for exam practice or for tests such as the Virtual University of Pakistan. Exam candidates find past papers valuable in test preparation. So we can say it's an important tool for revision, allowing students to check how their revision is going and assess areas for improvement. 
Here you can download CS101 solved past papers with a simple click…
CS101 Midterm and Final term Past Papers with Ref by Virtual University Students.
Here you can also download Lot of papers & Helping Material… Click on Link …
Moaaz Midterm All subjects past papers with reference
  Moaaz Final term All Subjects Past papers with Reference
Waqar Siddhu Midterm All Subjects past papers with reference
    Waqar Siddhu Final term All Subjects Past papers with Reference 
All Subjects midterm Solved Quiz's with Reference