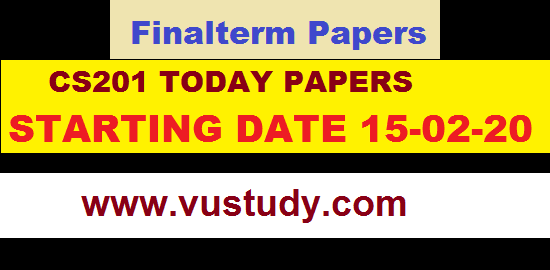 CS201 TODAY FINAL TERM PAPERS 15/02/20
CS201 TODAY PAPERS STARTING DATE 15 FEBRUARY 2020
Here you will find all cs201 current papers share by different students & click on Link if you need CS201 Final term Papers  
CS201 TODAY PAPER  SHARE BY IRHA NOOR 15-02-20
Cs201 at 11:00 am
5 to 7 mcqs from past papers of waqar
Q1: difference between default and parameterized constructors.
Q2: use three variable to expose the dec, hex, and oct.
Q3, write c++ programs with three variable salary, no. Of days and rate and salary account by the formula
Salary= no.days*rate
Take out of no of days with the daily rate of 1000 per day.
Q4: write c++ program with 2 variable
1- calculate rows and columns
2- calculate transpose of matrix
Q5_ function of default function
Q6_ if you agree prototype of ordinary function and special function of a class are same. Justify with comment.
CS201 TODAY PAPER  SHARE BY SANAM KHANI  15-02-20
25 to 30 mcqs from waqar siddhu ..
4 questions aesy aye thy Jin my error find krna ta or reason btani thi …
Or ik question tha define object …how we create object of class.explain with example.
Or 2 questions thy jis ki coding likhni thi exactly program yaad nhi ..
Or ik question given tha jis ki output find krni thi .
Or
How we declare static and dynamic class of student .. program given ta …
Objective Section bht easy ta,
Subjective bht ziada mushkil,
Best Of luck
To All
————
CS201 TODAY PAPER  SHARE BY VU STUDENT  15-02-20
Subjective section mey agr kuch be nahe ata kesi ko, koi aur relative answer likh lein,
Likin khali mat chorhna,
[2/15, 11:08 AM] : Classes kay function likhnay thay.
Union ki output.
Matrix class ki output.
Pointers ki output.
CS201

 paper: (15 Feb at 2:30pm)

Objective: Mostly Mcqs from Waqar Siddhu screenshots.
Subjective: Programs related to Templates, Dynamic memory allocation, classes, Objects, Functions Arrays.

Today cs201 paper 15-02-20
Program for class
Write program to copy one array into another array and array of 5 elements
Aur baki questions find errors in the given code
Calloc and malloc function
Write program for constructor

Today paper cs201 5pm 17-02-20
3 questions error find
2 questions output btane wale
2 programs
R 3 ese he short short question the
Kn knse operator overload ni ho skte wo btayen
Kese pta chlega k new function se memory allocate hue h ya ni

Today paper cs201  17-02-20

30 to 40% From past papers of Moaaz And Waqar

2 Question on Finding Errors in code

1 question was on incrementing Date through class

1 question from pointers i.e getting input from user and reverse the order through pointers