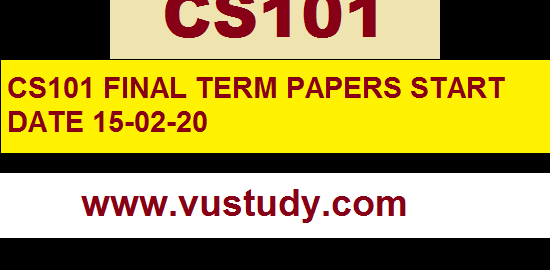 CS101 TODAY FINAL TERM PAPERS 15/02/20
CS101 TODAY PAPERS STARTING DATE 15 FEBRUARY 2020
Here you will find all cs101 current papers share by different students & click on Link if you need CS101 Final term Papers  
[2/15, 1:18 PM] Uxama Vu  Admin.: My CS101 paper
Total 50 questions
40 mcq
5 questions (3 marks) each
5 questions (5 marks) each
Mcq asaan thy zada mushkil ni thy 60% past papers sy.
Html code for image.
3 types of database
Telnet and FTP protocol
5 irresponsible teams for software development.
Array that take 5 elements
Simple html program to include email and website to the website
Star topology.
5 steps for user data security in network.
Bs itna yaad hy 2 questions yaad ni
[2/15, 1:18 PM] Uxama Vu legends Admin.: Cs101
All mcqs were from past papers
Javascript 5 marks
Arrays waly topic me se aya tha ik qstn 3 marka ka
3 Viruses like program
Ik column tha mathpi waly topic me se
What is internet describe its 3 characteristics
What us URL write 3 of them
My CS101 paper 15-02-20
syntax error aur runtime error m difference tha IP ka use.
ek code m error identify karna tha aur ek main output batana tha baqi basic hi tha itna mushkil nhi tha
java main hi tha questions ek main error identify karna tha aur ek ka output batana tha
mathematical function ka ek question tha long jis main table match karna tha mtlb output diya howa tha bas us ko table main input k samne likhna tha
cs101 Paper dated 15-02-20