PAKISTAN STUDY SOLVED PAPERS
PAKISTAN STUDY SOLVED PAPERS FOR COMPETITIVE EXAMS IN PAKISTAN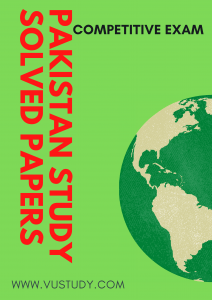 Pakistan Studies was introduced as a compulsory aimed to create patriotism among the youth and awareness of Pakistan ideology and aimed at enabling young Pakistanis to become the informed and responsible citizens of the state. In Pakistan Studies we study the struggle of Pakistan which is the Pakistan Movement. It informs about the sacrifices that Indian Muslims made and the challenges they faced in the struggle of Pakistan. Moreover, it tells about the leadership of the Pakistan movement and their struggle for Pakistan. As a subject, Pakistan studies also deals with the development and improvement in different departments of national life.  For example, we study political and constitutional changes and development in the subject of Pakistan Studies.
This subject informs and guides the government and policymakers to plan future development. It guides in framing policies and taking appropriate measures in light of past experiences, available resources, and challenges. Here you Can download Pakistan Studies Solved Papers for Competitive Exams in Pakistan.
THE ROLE OF PAKISTAN STUDIES FOR SECONDARY LEVEL STUDENTS IN PAKISTAN
The role of Pakistan studies in promoting political awareness among secondary level students in Pakistan. One of the main objectives of the curriculum of Pakistan Studies at the secondary level is to prepare the students to become good citizens and to understand the human values and political system of Pakistan.
This Pakistan Studies course provides a background on the Pakistan Movement and the political development after its inception. It will also cover the salient features of Pakistan such as its land, economy, human development, and domestic, international, and current affairs. The course will provide opportunities for prospective teachers to enhance their content knowledge in disciplines that form the core of Pakistan Studies as well as related skills including:
Critically examining information
Broadening their vision and understanding of society, democratic citizenship, cultural diversity, and religious harmony
Information gathering and processing, map reading, critical thinking, decision making, problem-solving, and communicating and presenting material
Exploring values and dispositions such as commitment to the common good, justice, social responsibility, and action
Developing personal qualities such as self-esteem, confidence, and initiative, and risk-taking.
This Pakistan Studies subject is designed around the aims and objectives of the National Curriculum for Pakistan Studies and the topics outlined in the curriculum. This subject endeavors to prepare prospective teachers to be intellectuals who take informed decisions and are active, conscientious citizens responsible for contributing positive change within society as a whole.
DOWNLOAD PAK STUDY SOLVED PAPERS FOR COMPETITIVE EXAMS
On this site, you can download a lot of Pakistan studies solved papers for preparation of your Competitive Exams in Pakistan. Download in Pdf click on the link below…
Here You can also Download…
DOWNLOAD FPSC/CSS/PPSC/NTS/SPSC/BPSC/KPSC/PTS/OTS/BTS & JOB EXAM SOLVED PAPERS