Midterm Exam 2020 replaced by Grand Quiz
Important Instruction Virtual University Midterm Exam Spring 2020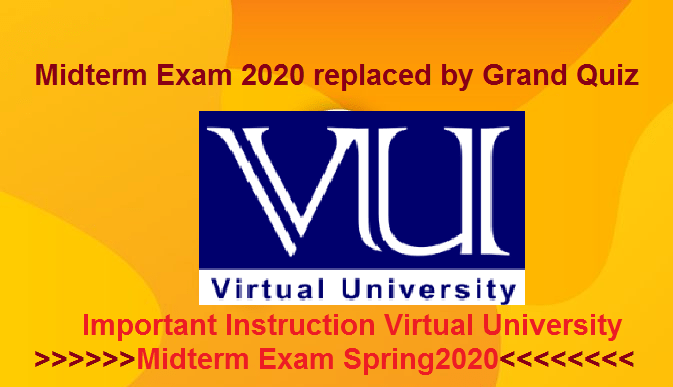 Due to the current Coronavirus Pandemic situation across our country, Virtual University had decided that there will be a slight change in the Course Assessment Scheme and conduct Midterm Exam Grand Quiz 2020.
Earlier we had Midterm & Final term exams but, this semester, we will conduct Quiz based activity for Midterm Examination (Spring 2020). The course assessment scheme is already shared through the Grading Scheme tab on your Course LMS.
Syllabus for final term exam is the same, 25% from lectures 1-22 and 75% from lectures 23-45. The mid-term exam is replaced by a Grand Quiz (probably will consist of 40-60 MCQs, depending on the subject). The date of the Final-term exam is not finalized yet.
Important Instruction about Grand Quiz
Midterm Exam Grand Quiz 2020 will be conducted like normal quizzes, which means you would have Two Days to attempt it.

The grand Quiz is replacing the Midterm exams, which are all Midterm syllabus will be included.

There will be 60 Questions in Grand Quiz.

For more info check your Course Announcements sections.
Here you can Download Virtual University of Pakistan All Subjects Handouts, Quiz's  Solved midterm past papers, and final term past papers with Reference. These are very helpful for the preparation of midterm and Final term Exams. You can also Download Digiskill study materials, FPSC and other Competitive exams solved papers for Preparation of Jobs. You can easily download from these links…………..
  Moaaz All Subjects Midterm Papers
     Moaaz All Subjects Final term Papers
Midterm Solved Quiz's  All Subjects 
  Finalterm Solved Quiz's All Subjects 
 Waqar Siddhu All Subjects Midterm Papers
   Waqar Siddhu All Subjects Finalterm Papers
Solved Midterm Past Papers other Students
     Solved Finalterm Past Papers Other Students 
 Midterm Exam Past Papers All Subjects
   Finalterm Past Exam Papers All Subjects
 Current & Old  Assignments All Subjects